Supreme Deck Restoration Grosse Pointe , Michigan specializes in sealing, staining, cleaning, repair, refinishing, building, and maintenance of composite and wood decks, Rainbow Playsets, and fences, and all other exterior wood. We have serviced over 20,000 decks in the Bloomfield, Ann Arbor, Novi, Rochester Hills, Brighton, Grosse Pointe , (MI) Michigan areas since 1991. We are detail and quality oriented providing you the best service in the deck refinishing and building industry. We have the ability to remove most prior coatings and restore them with new and improved penetrating contractor oil based coatings (Olympic, TWP stain, Penofin, Cabot Australian Timber Oil, Sikkens, and Superdeck). Unlike handyman and painters that use the pressure of a powerwasher, we use professional deck cleaners and wood brighteners to professionally restore your deck. We service Decks, log homes, exterior teak furniture, and wood fences. We offer deck repair of simply one board to leveling the main support posts of your deck. We are a full service deck maintenance company that can handle all of your decking needs. By HAND BRUSHING all of our deck stain, exterior oil based coatings, preservatives and treatments on all the decks we stain is one reason we are Grosse Pointe premier deck restoration and refinishing contractors. You can also trust Supreme Deck Restoration in the cleaning and restoration of your exotic hardwood decking such as IPE, Mahogany or bamboo. Contact us for a free deck restoration or composite cleaning estimate in Southeast Michigan today.
During April-May-June we only service a limited amount of cities
When to seal a new deck in Grosse Pointe ?
New cedar and pressure treated decks in Grosse Pointe Michigan should weather for a month before sealing or staining and should definitely be sealed prior to winter. Chemicals now are used to remove the mill glaze and open up the pores of the wood so the stain can penetrate into the wood. Two of the biggest misconceptions homeowners make is not properly cleaning a new deck to remove the mill glaze and letting it weather for a year prior to sealing it. Letting pressure treated wood set unprotected and exposed to the sun will allow more time for it to split, warp, cup, shrink, twist and grey.
Deck Cleaning and Restoration in Grosse Pointe
Exterior wood restoration is our specialty. It's is all we do. We never use high pressure to strip a deck; instead we properly use bio-degradable cleaners and strippers to remove failed stain and sealers to strip a deck. We only apply non-film building transparent stains that are contractor friendly. We typically use TWP stain, Sikkens SRD, and Olympic semi-transparent stain. Supreme Deck Restoration has several experienced crews that can tackle large condo complexes in under a week. All stain is brushed.
Need a new wood, composite or Trex deck in Grosse Pointe ?
We repair and build decks all year round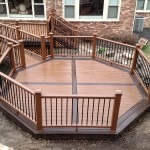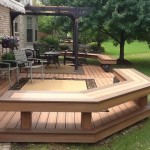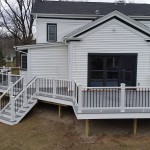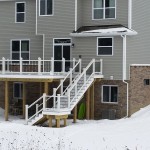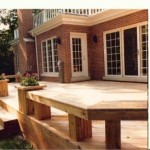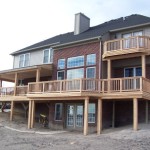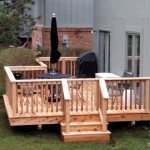 Supreme Deck also specializes in construction of wood, Trex, Timbertech and Fiberon composite decks. Supreme Deck is a top rated TrexPro Platinum installer for Grosse Pointe , MI. Click here for a deck building estimate from
Supreme Deck Builders in Michigan
. Supreme Deck is a licensed and insured Michigan deck builder with a showroom in Livonia, Michigan. Deck replacement or "re-deck" and is becoming a popular option with many Michigan home owners. It is a less expensive option than a complete build, because we can use the understructure of your current deck. Cedar deck floors usually rot out first, thus requiring a new floor. We are a TrexPro Platinum installer in Grosse Pointe Michigan.
TREXPRO®PLATINUM installer for Grosse Pointe
TrexPro®Platinum is the highest level of recognition available for an independent contractor. TrexPro®Platinum deck builders are the leading TrexPros in their markets, with demonstrated ability and expertise to design and build outdoor living projects with Trex, ranging from the simple to the most complex. Look for the TrexPro Platinum icon when you're searching for an official TrexPro® deck builder.
Click TrexPro logo below to see our Supreme Deck Trex reviews.
Repair, board replacement, & Deck Leveling for Grosse Pointe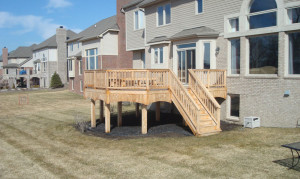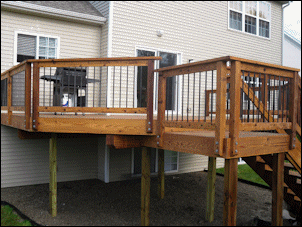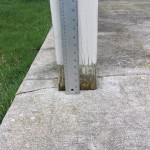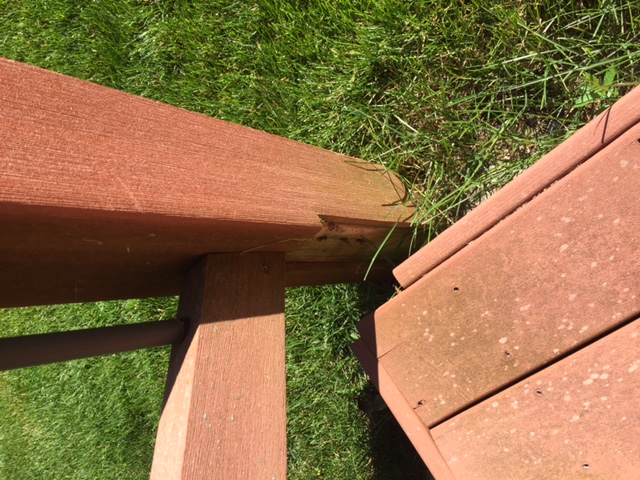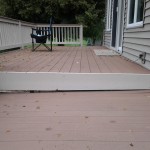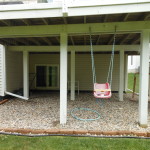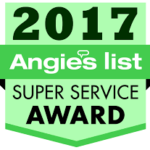 Deck Repair Companies near Grosse Pointe
Here are some examples of the decks we see on a daily basis. Improper drainage, posts deep enough below the frost line, poor clay soil, etc. We are a licensed and insured deck company that levels decks that have risen or sunk from Michigan winters.  This is becoming very common from houses that have poor drainage issues.  We can replace posts that support the deck or use the existing ones.  It is hard to find contractors for deck leveling, since all of them want to build a new deck for you. Don't let your exterior wooden deck in Michigan go unprotected. Metro Ann Arbor, Rochester Hills, Troy, Brighton , and Grosse Pointe , Michigan (MI) weather can be harsh on your wood deck, log home and fence. Your exterior Cedar, Pressure Treated, and exotic hardwood deck is a large investment and favorite gathering place for your family and friends. In order to keep your deck restored, safe, and clean, you need to make sure it's properly sealed & maintained. Count on a professional deck contracting company like
Supreme Deck Restoration
to insure that your Michigan exterior wood deck, composite Trex deck, log home, teak furniture, Rainbow Play set, and fence is protected for years to come.
Maintenance and sealing near Grosse Pointe Michigan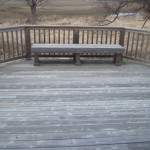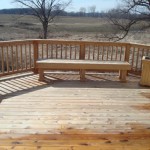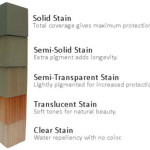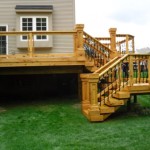 Restoring wood decks with simply a pressure washer alone is damaging to your wood deck. However, the use of proper deck cleaners, strippers and wood brighteners will get you professional results and is the correct way to restore a deck. For homeowners we recommend Gemini Restore-A-Deck cleaners. Cleaning decks is a 3 or 4 step process. First, the proper cleaning agent or stipper needs to be applied to the deck. Then it needs to stay wet and scrubbed to work into the wood. Second, after the chemicals soften the stain then it is time to pressure wash the deck.  Proper psi and distance must be used or it is very possible to damage the wood.  Precaution must be taken on plants and vegetation around the deck.  This process can be repeated several times. Third, if sanding needs to be done, do it once the deck is dry and before the brightener is used. Fourth and finally, once desired results are obtained, it is time to apply the wood brightener to restore the deck back to original color.   Now it is time to stain or seal the deck using professional oil based sealers, In Grosse Pointe Michigan we recommend TWP, Olympic stains.
Composite or Trex deck cleaning Grosse Pointe MI.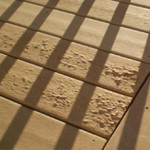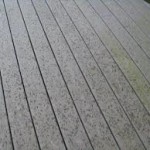 Even composite and Trex decks need to be cleaned on a yearly basis to keep the warranties. We use the recommended Olympic composite cleaners for your particular type of deck. If your deck has been neglected for years and has mold, dirt and other build-up, maybe its time?  Remember, that composite decks are low maintenance and that they still need to be cleaned, just not sealed if they are wrapped. Make sure you hire a composite certified contractor to install your deck.  The picture on the above right was installed by a handyman who did not build the deck to code.  If composite decks are not installed using certified or recommended fasteners they typically fail and can not be repaired.  Most newer capped composite decks have a 25 year stain and fade warranty. The decks above are all generation 1 composite and are non-capped, very susceptible to mold and need yearly sealing.
There are so many choices of alternative decking products and on top of that most manufacturers have several product lines so which one is right for me in Grosse Pointe Michigan?

These are questions we get asked all the time when we meet with clients in Grosse Pointe MI and for good reasons. There are hundreds choices of alternative decking products and on top of that most manufacturers have several product lines so which one is right for me? When we add to this the fact that some alternative decking products have failed in the early years of the industry, causing companies and products to come and go, this can be a crippling decision. The good news is that along with the bad experiences there are a lot of success stories that never get published. One of the best ways you can make sure that yours will be a success story is to educate yourself on the product you are considering and understand the pros and cons of the particular product. I stress again the pros and cons. There is not a perfect product that will be the best choice for all consumers and all applications, it just simply does not exist. They all have their strengths and weaknesses. Much like buying a car, one model does not fulfill everyone's needs. Some people need more space some less. Some need better gas mileage and some prefer more power. The point is the right decision lies in your personal desires, needs, and criteria. If someone tries to convince you that there is a perfect product chances are that they are selling to you instead of educating you. We can group these alternative products into two broad categories. When we use the term alternative we are talking alternatives to the standard pressure treated Southern Yellow Pine (pressure treated lumber).
Alternative wood decking products in Grosse Pointe MI
Cedar, Ipe, Thermally modified wood, Bamboo, Redwood, Cumaru, Massaranduba… These are all wood products that are either a different species or they are modified in some way. People that love real wood products will gravitate to these, I call them purist. Cedar and Redwood are the main softwood players in this category and are rich in naturally occurring tannins which resist decay and termites. Today's widely sold cedar is not the same as it was 30 years ago. Most of it is fast grown/farmed with very little heartwood so the richness of the tannin is not there, which has jeopardized its performance in horizontal applications such as decking where you have sitting water. On vertical applications it's still widely used and does fine with a pre-application of stain on all sides.
Ipe, Cumaru, Massaranduba are hardwoods that are harvested in rainforest and are very dense and hard, so hard that Ipe has a class B fire rating and does not float in water. Due to its hardness and natural properties it's widely touted as being a 50 year lifespan product. These woods have a very rich look that will need maintenance to retain their natural beauty, otherwise they will turn to a weathered silvery grey. Synthetic decking products in Grosse Pointe Michigan
Composite decking, Capstock, PVC, cellular PVC, Wood plastic composites, aluminum decking …etc. All these products that are man-made. I will focus on the ones that are most popular in the Northeast Ohio area, which would be the capped composites (Trex and TimberTech) and capped PVC (Azek Deck) products. Although the exact make up of each product is a closely guarded recipe, they break down into two categories: products contains some real wood content and products with all synthetic materials.
The advantages of adding wood (wood capped composites) to the decking is that it creates a firmer feel and more realistic look, these boards are quite dense and heavy.
The advantages the cellular PVC capped products have is the have less heat retention, no wood or organic materials, much lighter in weight. Trex Transcends is a capped composite (has wood filler) with the cap on 3 sides. Trex did this so the product can breathe and that the moisture has a way of escape from the bottom (think of weep holes in window approach). It's available in solid and variegated colors and has a matching railing system for solid colors. Another characteristic of this deck board is that the scratch resistance is really good and the Transcends line is made of 95% recycled materials.
TimberTech Earthwood Evolutions Terrain is a capped composite (has wood filler) with the cap completely surrounding the decking board on 4 sides. Their approach is to seal out moisture completely. This is not their high end line but a very good board for the money. It's available in solid and variegated colors. TimberTech has a wide selection of railings to go with it including a newly launched Impression aluminum rail.
Azek Deck is a cellular PVC capped board (no wood fillers). This product is capped on all 4 sides and does not have any wood content in it. It's a lighter weight board and not as dense as the composites. They also have solid and variegated colors available, with the solid colors have a matching railing system. A wide selection of colors and this product is ground contact approved.
There are many more options available and this is only to serve as an overview of some of the popular products in Grosse Pointe , MI. I would recommend asking and ranking in the order of importance the following parameters:
Scratch resistance:
How important is this to you? Do you have a dog? Are you the type that is going to notice every little scratch and will this keep you from enjoying your investment? If so go for a product with good scratch resistance and a product where the scratches will not be very visible. They will happen, it's a floor surface that you wear. Take your keys and scratch a sample piece of decking you are considering using.
Traction: Will this be used year around as the main point of egress? The deeper grain patterns will give more traction in wet conditions. Test out a sample by laying it out and dragging your foot on it, or ask your deck builder to visit a deck with the same product so you can walk on it.

Maintenance: How much effort are you comfortable with? There is no such thing as no maintenance. Everything will require some. The alternative synthetic products are made so all you have to do is clean them, no staining necessary. With woods you will need to apply some sort of deck stain/sealer to prolong the life of it.

Fade and stain resistance:
A lot of new synthetic products have a fade and stain warranty (check the fine print most are pro-rated). With a wood deck you can always re-stain, so it is not as much of a concern. The way to test this is take sample pieces of decking and spill different things on them.
Longevity: What is the time projection of your deck project? If you are planning on re-working something or moving shortly, you might limit the level of investment. If you planning on staying a few years the low-maintenance decking products will appeal since they are made to stay nice for a long time. A wood deck, even with superb maintenance, will have splinters, grain lifting and cupping years down the road. That's when these alternative materials shine.

Budget: Here is the reality check, what are you willing to invest? These alternative materials are nice and have great features but they can cost 2 to 3 times the price of a standard pressure treated deck.

Heat retention: Different products will hold a varying amounts of heat, with color being a factor in thermal retention. Decks near pools have this as one of their primary concerns. Take a few samples and set it out in the sun and feel the difference and if you want to be technical measure them with a thermometer.

Color: Does your desired deck board come in the color you are looking for? Does it have a matching railing system? Oftentimes I have seen clients spend much time in doing research only to find out that they do not like the colors the decking comes in. For example, if you want a matching railing system only the solid colors will offer that. If you are going for a black or white rail, any decking color will work with that. Don't just focus on the decking but consider your whole color scheme. Right or wrong aesthetic is usually what will make the final decision.