Deck Repair
Deck Paint & Stain

This picture shows what we call paint and stain. This is where the vertical rails are painted with a solid color stain (usually to match the house) and a transparent coating is applied to the flooring. This will eliminate the chances of the floor peeling. Once the rails however are painted there is no longer the option to go natural in the future. This is a very expensive option for decks because it is very time consuming.On existing paint and stains where only the floor needs service it is very hard to clean the floor without having any of the paint from the rails chip off, there is usually touch ups on the rails that will need to be done.

Deck Repair & Building, and Construction

We offer complete deck services from the repair of one floor board to a complete deck installation. We weather most of our wood prior to installing it, this helps to insure all the wood we install matches up better to the rest of the deck. New cedar lumber has a mill glaze on the wood that acts like a skin and does not allow the stain to penetrate properly causing it to stand out for several years. Most repair companies go to Lowe's or Home Depot and buy new cedar and install it and you have to look at a floor that looks very uneven (old and new boards). We have solved this problem. When we wash and seal the deck all of the boards are very close to matching up when the job is complete.

The cedar that most people are using for decks is not as rot resistant as the cedar that was being used 30 years ago. In the old days, cedar and redwood decks were built from old growth lumber, which was loaded with oils and natural chemicals that made it highly resistant to insect attack and decay. These days, the wood is coming from new growth and managed forests, it contains lots of sapwood. This wood will decay faster. Plus, it cracks and splinters. And if it's not kept treated, it generally looks bad after a few years.

Deck Leveling is becoming popular in Michigan.
JOB 1 – The deck below was extended to add room for a hot tub on it, and we pressure washed, cleaned striped, and the stained the deck in redwood.
Before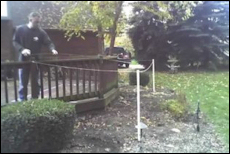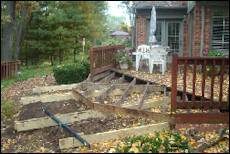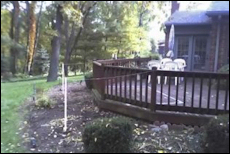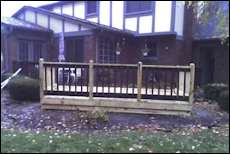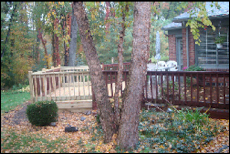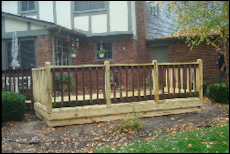 After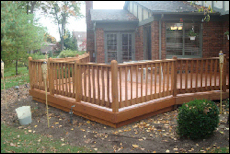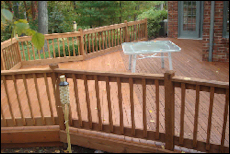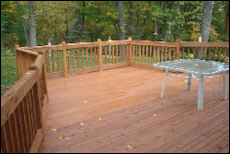 JOB 2 – This is a rotted cedar deck that was 12 years old. We replaced the complete floor. We call this a redeck where we used the existing pressure treated framework and laid the new floor over top. This saves homeowners a lot of money.
Before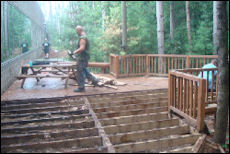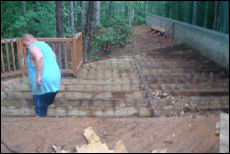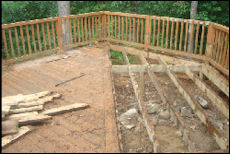 After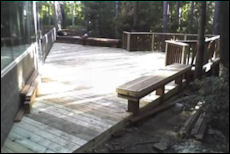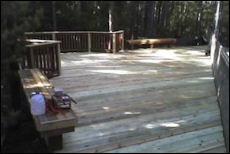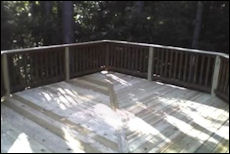 Save